Wire Rope Mesh
The stainless steel oxide wire rope netting is a special process surface treatment. The wire rope mesh is made of 304 or 316 stainless steel material.
Common make the surface into the black color.
It absorb the strong sunshine, So protect the animal vision. It is good for using in the zoo cage mesh, zoo enclosure mesh, and zoo wire rope fence.
1.Structure: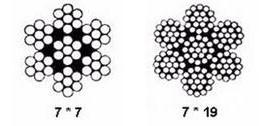 Available AISI 304 and 316 stainless steel
Rope diameter : 1.0mm,1.5mm,2.0mm,3.0mm,4.0mm
2. Opening Size
Diamond mesh when it is stretched at 60° for ferrules and 90°for knotted(standard), other angle 30° - 90°
Opening size : 20mm x 35mm to 200mm x 347mm