Zoo Mesh
Tiger cage enclosure mesh is made of ferrules stainless steel cable mesh or woven knotted cable mesh. It is high tensile and flexible.
Tiger cage enclosure netting
1. Wire rope structure: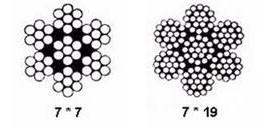 2. Wire rope material: AISI 304, 304L , 316, 316L stainless steel
3. Opening Size
Diamond mesh when it is stretched at 60° (standard ),other angle 30° - 90°
Opening size : 20mm x 35mm to 200mm x 347mm
4. Tiger enclosure wire cable mesh color choose:
• Black oxide hand woven flexible wire rope mesh.
• Colourful ferrules assembled with standard stainless steel wire rope.
• Colourful stainless steel wire rope assembled with standard ferrules.
5. Packing: rolled and packed in PP woven bag with pallets or box.
Size can be required. Check the link of the Ferrule Stainless steel cable mesh and Knotted stainless steel cable mesh